Dog bed Medium
You can find the most beautiful assortment of Medium dog beds at DogsCompanion.com. Take a look at our webshop for a high quality dog bed in size medium!
Largest choice of colours & types of fabrics
Available in stock
Possible to pay afterwards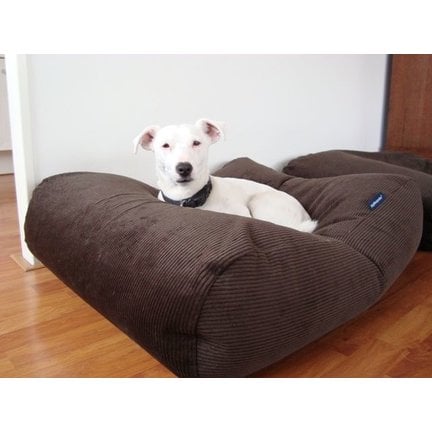 Dog bed Medium
Looking for a medium dog bed? This size dog bed is specially made for medium-sized dogs, such as a Heath Guard, Spaniel or Border Collie. The dogs can stretch out on the soft and comfortable dog bed. Hondenbed.nl has a wide range of colors, fabricsand designs. You can choose the outside cover that best suits your interior. Here you can also think of the different seasons. In the summer for example a bright canvas cotton cover and in the winter a warm corduroycover with a dark color. It's not just your dog who will enjoy the dog bed. Your faithful four-footer will enjoy his own place in the house to the fullest.
The dog beds are easy to maintain. The complete bed consists of an inner bed with EPS pearl filling and a coverof your choice around it. The cover has a zipper that you can easily open and then the inner bed to take out. You can wash the covers in the washing machine (see the washing instructions in the cover for this). You can also replace the outer cover with a different colour or fabric, so that the medium-sized dog bed always matches your interior.
The dog beds Medium have a size of 90 x 70 cm. The bed is filled with 120 liters of small EPS pearls. This size is suitable for example for a Heath Guard, Spaniel or Border Collie.
 
A dog bed Medium at DogsCompanion.com
DogsCompanion.com has the best for your dog and therefore our products are of very high quality. Not only are the dog beds very comfortable, they also offer good support to your dog's muscles. This is important because your dog's muscles and joints are used regularly. To prevent injuries to your dog, it is therefore important that the muscles and joints are well rested. With a dog bed Medium from DogsCompanion.com you can be sure that this is the case.
Medium dog beds at DogsCompanion.com
If you are looking for a medium dog bed you don't have to search any further. DogsCompanion.com has a wide range of dog beds Medium size which makes it very likely that you will find a suitable pillow. As soon as you have found a suitable copy, you can settle it in our secure payment environment using one of the certified payment methods. In addition, in many cases you do not pay any shipping costs. So don't wait any longer and quickly order a nice dog bed medium from DogsCompanion.com. Your dog will be grateful.
Read more
Close