Dog bed Extra Small
The most beautiful assortment of XS dog beds can be found at DogsCompanion.com. Take a look at our webshop for high quality XS dog cushions!
Largest choice of colours & types of fabrics
Available in stock
Possible to pay afterwards

-18% Sale

€ 49,- € 39,95

Compare

-12% Sale

€ 49,- € 42,95

Compare

-18% Sale

€ 49,- € 39,95

Compare

-18% Sale

€ 49,- € 39,95

Compare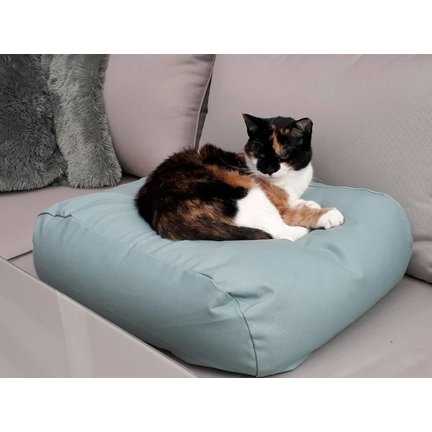 Dog bed extra small
The dog beds extra small (also called XS dog beds) are specially made for small dogs like for example a Chihuahua. Small dogs are often not visible in the large dog beds. This is not the case with the XS dog beds. The dogs can dream rolled up, but they can also lie stretched out on the dog cushion, without falling off. There is a wide range of colours, fabrics and designs. This size dog bed can be placed anywhere in your living room and adjusted to your interior. Because of its small size, the dog bed is easy to take with you everywhere. Very handy when your dog is going to stay or go on the road.
This size dog bed is also suitable for cats. Cats love to lie high, warm and soft. With this pillow you can create your own place for the cat in the house. The cat will soon feel comfortable with this and will start to see it as its own familiar place. Because of the large assortment you can make a cat cushion to meet your interior needs.
The Extra Small dog beds have a size of 55 x 45 cm. The bed is filled with 25 liters of small EPS pearls. This size is suitable for example for a Chihuahua or a cat.
 
A dog bed XS at DogsCompanion.com 
DogsCompanion.com has the best for your dog and therefore our products are of very high quality. Not only are the dog beds very comfortable, they also offer good support to your dog's muscles. This is important because your dog's muscles and joints are used regularly. In order to prevent injuries in your dog, it is therefore important that the muscles and joints are well rested. With an extra small dog bed XS from DogsCompanion.com you can be sure that this is the case.
Extra small dog cushions made of canvas cotton
Extra small dog cushions striped
Extra small dog cushions made of corduroy
Or a size bigger

XS dog beds at DogsCompanion.com 
If you are looking for a small dog bed, you don't have to search any further. DogsCompanion.com has a large assortment which makes it very likely that you can find a suitable pillow. As soon as you have found a suitable product, you can settle it in our secure payment environment using one of the certified payment methods. So don't wait any longer and quickly order a beautiful XS dog cushion from DogsCompanion.com. Your dog (or cat) will be grateful to you.
Read more
Close