Dog bed Large
DogsCompanion.com has the most stylish large dog beds for large dogs. A large dog bed is delivered free of charge!
Largest choice of colours & types of fabrics
Available in stock
Possible to pay afterwards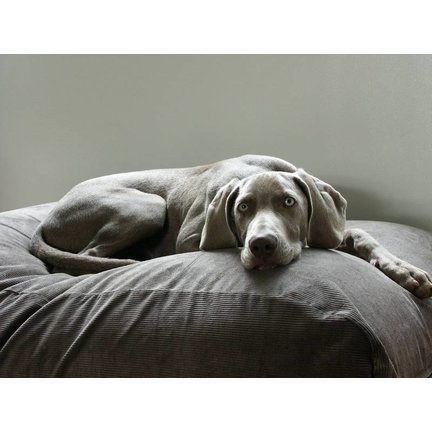 Dog bed size
For a nice large dog bed you are at the right place at DogsCompanion.com, the large dog beds specialist! We have a wide range of dog beds for you and then the larger variants can and should not be missing. Because also your Danish Dog or Rottweiler wants to relax and lie down at ease. But of course your dachshund will also love being able to nest in such a large dog bed. Dog beds are not only very good for your dog, our designs also make sure that they fit perfectly into your interior. Your dog is happy with a comfortable large dog bed, you are happy with a stylish accessory. Take a look at all the large dog beds of DogsCompanion.com.
The Large dog beds have the size 115 x 85 cm. The bed is filled with 175 liters of small EPS pearls. This size is suitable for example for a Retriever or Shepherd.

Looking for a large dog bed?
Big dog beds are the ideal solution for your dog to rest on. An XL dog bed provides a lot of comfort, so that the muscles and joints can rest well. Very important, since a lot is asked of the muscles and joints of dogs. You won't find a better bed for your dog. And at DogsCompanion.com we not only have the best dog beds, but also the most beautiful. We only use the best material and pay a lot of attention to the finish. It's all in the detail, of course. Large dog beds in different designs and styles, you can find it at DogsCompanion.com. Like:
Large dog beds at DogsCompanion.com
Of course, you can order large dog beds online at DogsCompanion.com. Because we work together with only the best agencies, you can order your favourite dog beds without any worries. You always pay in our secure payment environment, in the way that you feel most comfortable and comfortable, such as Creditcard, PayPal or Wire transfer. So don't wait any longer and order such a big dog bed from DogsCompanion.com, the specialist in large dog beds!
Read more
Close