Dog bed Superlarge
DogsCompanion.com has the most stylish XXL dog beds for the largest dogs. A dog bed XXl is delivered free of charge!
Largest choice of colours & types of fabrics
Available in stock
Possible to pay afterwards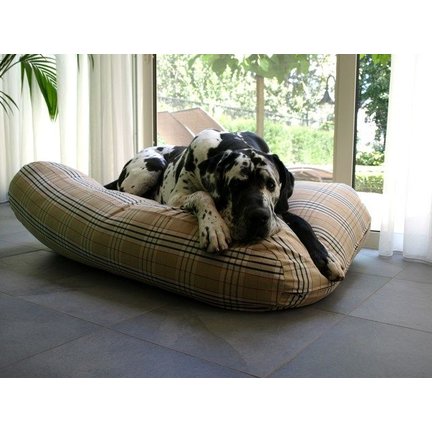 Dog bed XXL
A dog bed XXL is specially made for dogs of a larger size. Large dogs usually have the problem that they don't fit well on a pillow. With a Dog bed XL or Dog bed XXL, however, this is not a problem. These dog beds offer enough space (140cm by 95cm) for your dog to dream comfortably on the go. Besides the large size has another advantage, an XXL dog bed, namely the beautiful designs. The beds are available in numerous designs so you can always find an xxl bed that fits well within your interior. So don't hesitate and look for a suitable dog bed for you and your dog.
The Superlarge dog beds have the size 140 x 95 cm. The bed is filled with 300 liters of small EPS pearls. This size is suitable for example for a Dog or St. Bernard.
A dog bed XXL at DogsCompanion.com
DogsCompanion.com has the best for your dog and therefore our products are of very high quality. Not only are the dog beds very comfortable, they also offer good support to your dog's muscles. This is important because your dog's muscles and joints are used regularly. To prevent injuries to your dog, it is therefore important that the muscles and joints are well rested. With a dog basket XL or dog bed XXL from DogsCompanion.com you can be sure that this is the case.
Fast at home and always free delivery
If you are looking for a dog bed XXL you don't have to search any further. DogsCompanion.com has a large assortment which makes it very likely that you can find a suitable pillow. As soon as you have found a suitable copy, you can settle it in our secure payment environment using one of the certified payment methods. In addition, in many cases you do not pay any shipping costs. So don't wait any longer and quickly order a nice dog bed XXL from DogsCompanion.com. Your dog will be grateful.
Read more
Close